Across the State of New York, businesses of all shapes and sizes have committed to making a more energy-efficient, sustainable future a reality through energy saving upgrades that reduce emissions, increase productivity, and boost profitability.
A key example of this is Rudin Management, one of New York's top real estate firms. When redesigning its 39,800 sq. ft. office, Rudin sought improvements that outperformed the current energy code and stayed within budget. With funding from NYSERDA, Rudin partnered with OLA Consulting engineers to conduct an energy and financial analysis.
Through high-performance upgrades for the lighting and HVAC systems, Rudin saw an estimated 20 percent increase in energy savings—helping them meet their financial goals and exceed previous energy codes. Additionally, through the installation and use of an operating system using machine intelligence, Rudin is now able to receive floor-by-floor insight into real-time energy usage, space temperature, and occupancy tracking, all of which provide opportunities to improve energy savings and comfort levels for their tenants in both the long and short-term.
And that was just the beginning. Head to the full case study to see the complete scope of energy saving opportunities Rudin Management implemented.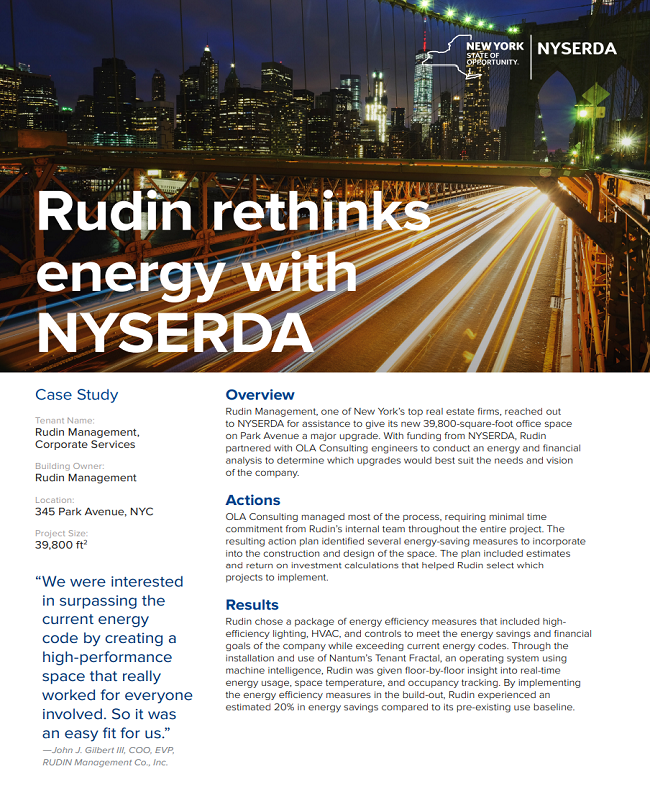 More About this Resource