At 5:37 PM on September 6th, California Governor Gavin Newsom took to Twitter to help prevent an impending blackout. The Tweet read: "CALIFORNIA: We're now in a Flex Alert… Here's what to do until 9pm tonight: – Set thermostats to 78 – Turn off unnecessary lights – Avoid using large appliances."
Governor Newsom's Tweet came amid one of the worst heatwaves in California history. Sacramento broke a 97-year heat record at a sweltering 116 degrees. Death Valley reached 127 degrees, the world's hottest September day ever.
All around the state, Californians were desperately turning up fans and air conditioning. As a result, the grid was just a hair's breadth from failure as peak load surpassed 52 GW – an all-time high.
Millions of Californians, myself included, received text messages over the course of the heat wave imploring us to "conserve energy [each day] after 3pm to reduce the need for power outages."
These Flex Alerts are issued by the California Independent System Operator, known as "CAISO." CAISO oversees electrical flows for California's three investor-owned utilities (IOUs). Together, these utilities account for three quarters of all power transmission in California, so ensuring that they operate smoothly is a difficult undertaking.
The premise behind Flex Alerts is voluntary load shedding or shifting. Households are supposed to use major appliances before the designated curtailment window or wait until after peak demand has passed. They're also instructed to turn their AC down to a tolerable – if not entirely pleasant – level.
Just how much power does the buildings sector consume?
When the text alert first came in, a question popped into my head. In California, should it be the responsibility of households to conserve electricity, or should another energy-hungry sector, like big tech, be asked to briefly pause operations?
To answer this question, I needed data. Luckily, the California Energy Commission provides a breakdown of annual energy consumption by sector – it's even filterable by utility.
Because we're looking at CAISO and Flex Alerts specifically, I filtered for the state's three IOUs – Pacific Gas & Electric, San Diego Gas & Electric, and Southern California Edison (Figure 1).
Figure 1: Electricity Consumption (GWh) by Sector in California, 2019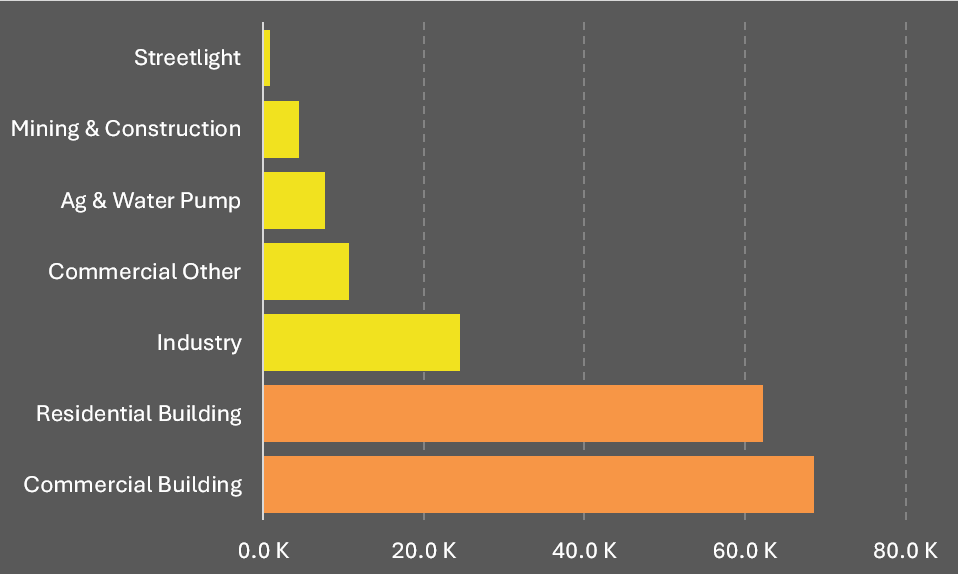 Data from the California Energy Commission, Visualization by Atlas Public Policy. Energy consumption is filtered to include only customers of the three IOUs.
It turns out buildings in California dominate power consumption. This data justifies the use of Flex Alerts to target households during heatwaves. However, with California's aggressive decarbonization agenda set to drive up residential power consumption, will these texts be enough to prevent widespread outages?
To mitigate climate change, it's imperative to electrify all personal infrastructure, including buildings. Doing so will greatly reduce total nationwide energy consumption because electric appliances, like heat pumps and induction ranges, are several times more efficient than their gas counterparts.
However, while an all-electric future requires less energy on a BTU basis, it would also require two to three times as much electricity. Leveling out all this new load will likely necessitate strategies that are both more predictable and automated than Flex Alerts.
Critics deride electrification as the downfall of power grids, deploring what just occurred in California as the future across the country. But that argument ignores the many strategies available to employ electrification as a grid stabilizer.
On Buildings Hub, we previously discussed how virtual power plants harness distributed energy resources (EVs included) to meet spikes in electricity demand. And California's solar mandate, which requires all new construction to be built with solar, will ensure that this new load won't all have to come from the grid.
An even simpler solution that California IOUs are beginning to implement is time-of-use rates (TOUs) and demand response programs. TOUs encourage ratepayers to shift plug loads (including EVs) to mornings and early afternoons when solar production is at its height and before the evening demand peak.
Yes, electrification in California will pose unique challenges. But with innovative solutions and effective policymaking, we are more than capable of solving them.
Photo by Andrey Metelev. Source: Unsplash.
About the author: Noah Gabriel