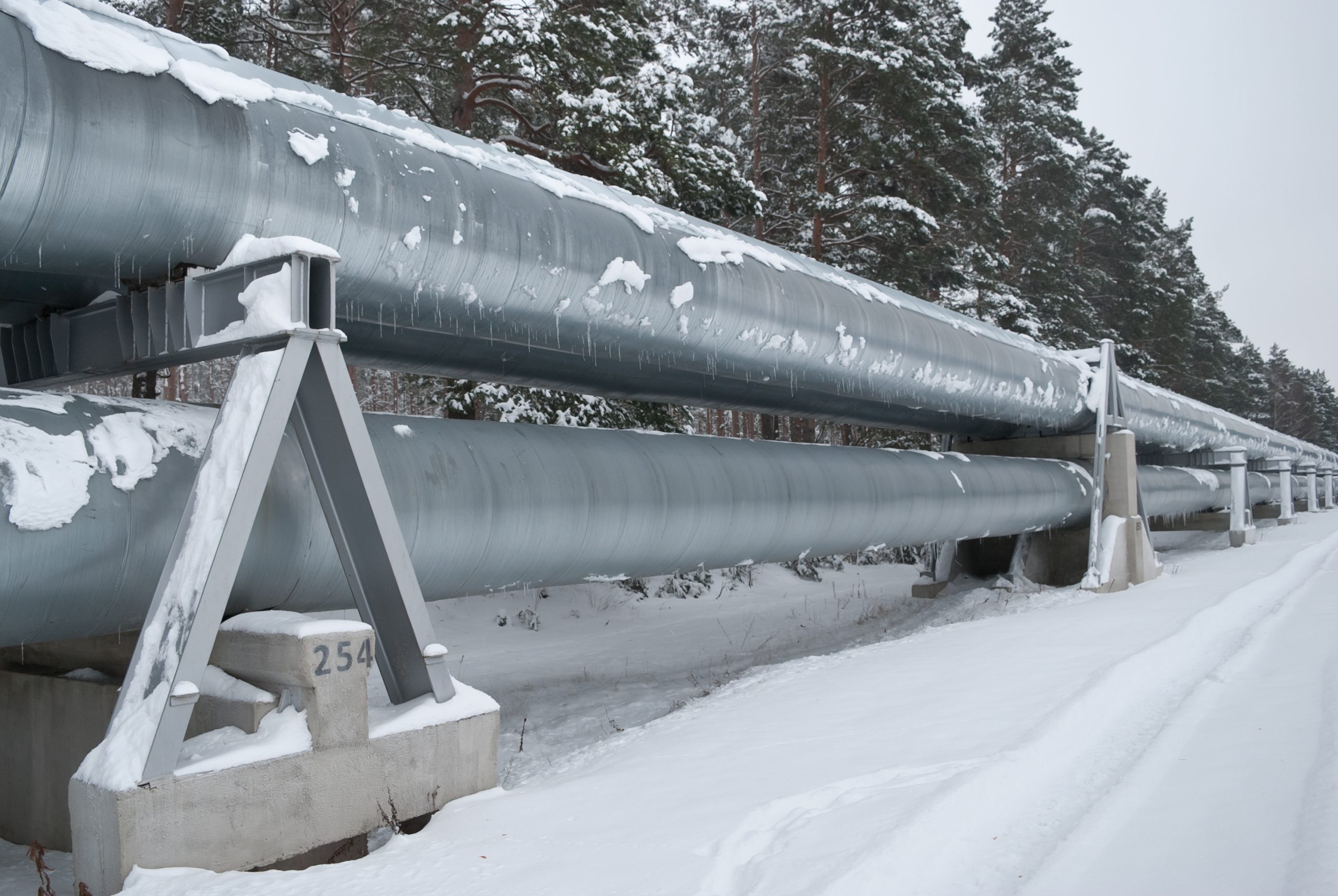 In February 2022, Russia launched a full-scale invasion into Ukraine. In response, the European Union (EU) has stood in solidarity with the Ukrainian people by continually expanding sanctions against Russia, providing humanitarian and military support, and reiterating its political condemnation of the Kremlin, according to Reuters.
Europe's Dependence on Russian Energy
Historically, Russia has wielded its energy supplies as a geopolitical weapon over the EU. This volatile interdependence became increasingly problematic following Russia's invasion, given that two major pipelines, Brotherhood and Soyuz, pass through Ukraine. Before the war, EU member states often relied on Russia to meet a large share of their natural gas demand, with Germany and Italy importing the highest volumes annually across the European Union.
But the level of dependence on Russian gas varies widely across the EU. In 2021, Germany and Italy imported 60 and 38 percent of their gas from Russia respectively, while countries like Spain and Sweden relied on Russia for just 10 and 12 percent of their gas supply. However, some states, particularly those in Eastern Europe, have historically been far more reliant on Russia for gas imports: Latvia (100 percent), Czech Republic (92 percent), Finland (75 percent), Slovakia (65 percent), and Hungary (64 percent) are all deeply entangled in the Russian energy supply.
War Brings Price Shock, Interest in Electrification
The Russo-Ukraine war led to skyrocketing gas prices across the EU, with those most dependent on Russia for gas hit the hardest. According to Eurostat, in the second half of 2022, gas prices soared over 20 percent year-of-year across most of the continent, with price increases reaching or exceeding 100 percent in many countries (Figure 1).
Figure 1: Change in Natural Gas Prices for Residential Consumers in Europe, January-June 2022 (compared with 2nd half of 2021, based on prices in national currency, in %)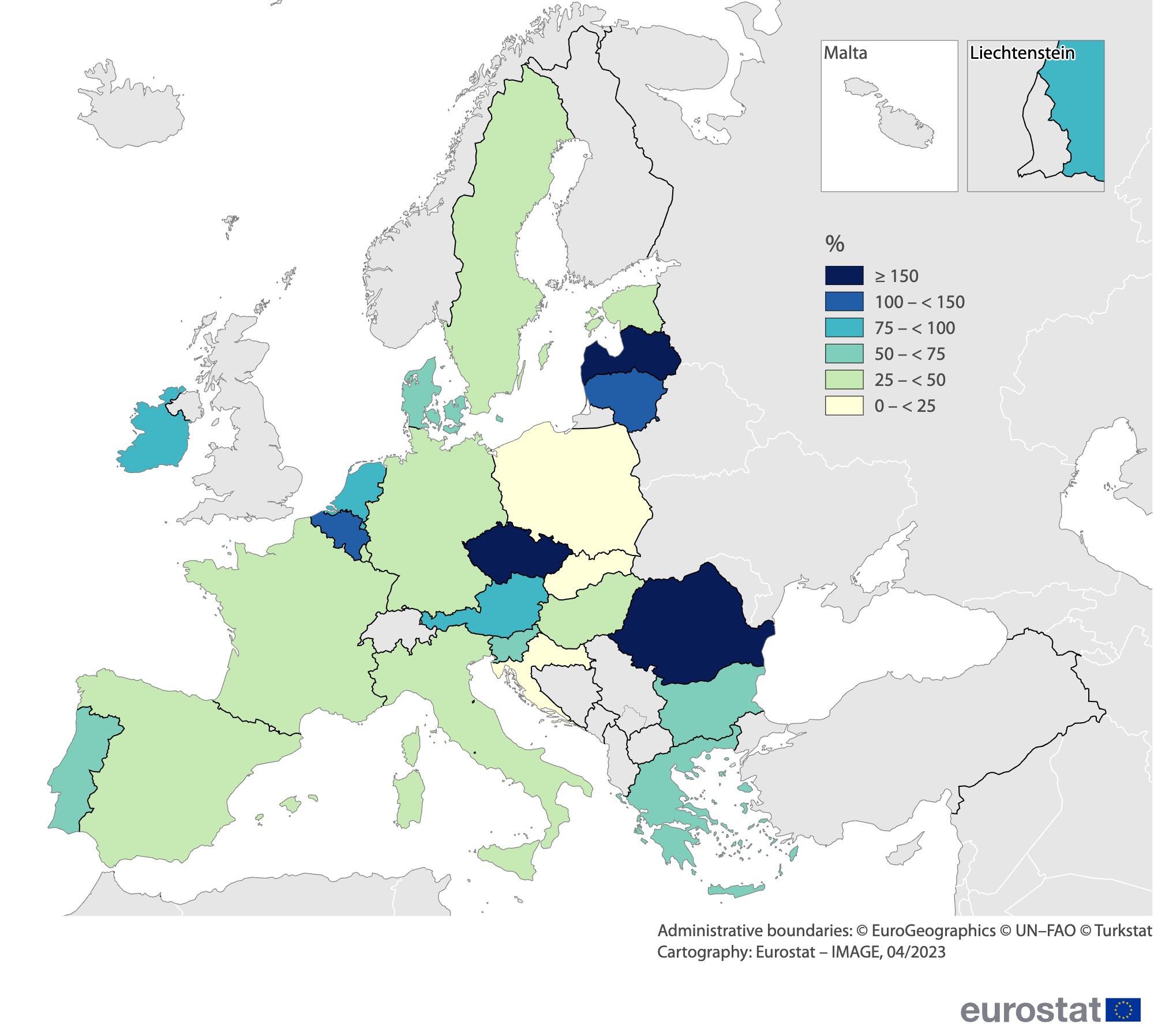 While gas prices have stabilized throughout the first half of 2023, the initial market shock and cost burden on average consumers has made building electrification more attractive. Heat pump adoption has been on the rise. In 2022, the European Heat Pump Association (EHPA) documented record heat pump sales in Europe amounting to a year-on-year increase of almost 40 percent, with over three million units sold across the continent. (Figure 2). Some countries saw explosive growth, with heat pump sales rising over 100 percent in Belgium, Poland, and the Czech Republic between 2021 and 2022. Likewise, high-volume gas importers Germany and Italy also experienced sizable heat pump sales growth of 60 and 35 percent, respectively.
Figure 2: European Heat Pump Sales Over Time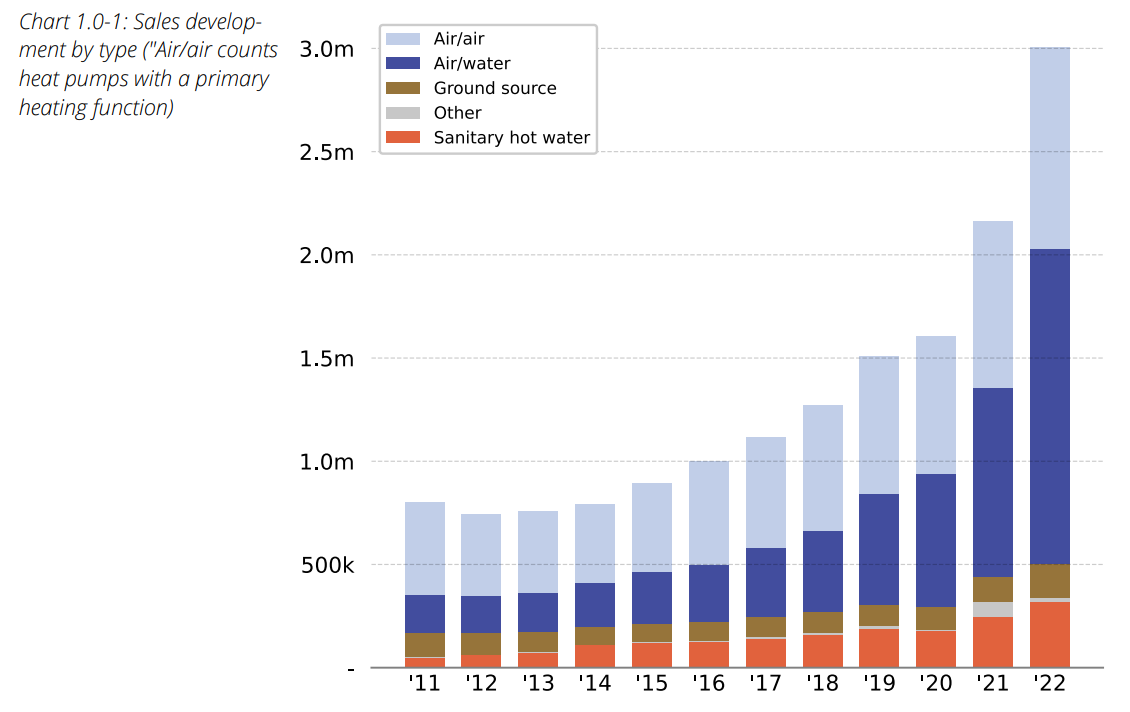 Source: European Heat Pump Association
Most of this change can be attributed to an increase in the sale of air source heat pumps, namely, air/water heat pumps. While not frequently deployed in the United States, air/water heat pumps are air source heat pumps that transfer heat from ambient air into water via radiators and baseboard systems.
Electrification Policy on The Rise
This market growth directly coincides with assertive electrification policies across European governments. The EHPA has identified 12 European countries that have enacted or announced electrification mandates as of April 2023 (Figure 3). For example, six countries have prohibited oil & gas heating equipment in all buildings (Ireland, Norway, Germany, Luxembourg, Denmark, and the Netherlands), while five have prohibited gas infrastructure in new construction (United Kingdom, Italy, Belgium, France, and Austria).
Policy highlights from around the continent include the Netherlands' prohibition on gas hookups in new construction (effective from 2018) and its minimum hybrid heat pump installation requirement (effective from 2026). In addition, the United Kingdom announced a prohibition on gas and oil boilers in new construction from 2025, with the French enacting a similar restriction on new gas heating infrastructure taking effect in 2023. Perhaps most interestingly, Denmark intends for 50 percent of buildings to be connected to a district heating system by 2028, with the rest to be equipped with heat pumps by 2029 (Figure 3).
In January 2023, Germany claimed to have achieved energy independence from Russia, and the European Commission has resolved for the bloc to become independent of Russian energy supplies by 2027. To accomplish that goal, the Commission has proposed an EU-wide prohibition on new gas and oil boilers, that if enacted, would take effect in 2029.
Figure 3: Map of Current or Announced Prohibitions on Fossil Heating Equipment (As of April 2023)
Source: European Heat Pump Association
Spurred by the Russo-Ukrainian war, Europe may well have reached an inflection point with fossil heating as it charts an electrified future independent of the Kremlin. Geopolitical conflict, gas price shocks, and strong political will across European governments has driven and will continue to facilitate energy diversification and building electrification on the continent, with heat pumps and efficiency improvements serving as key vehicles for change.
About the author: Katherine Shok