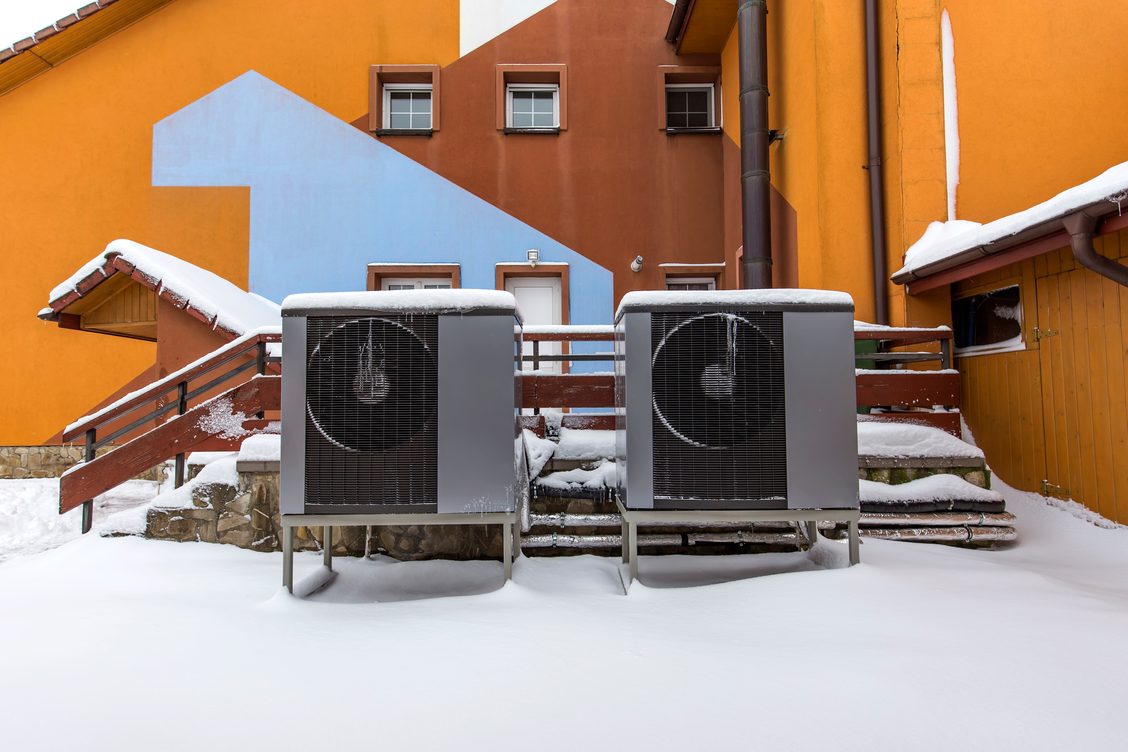 Cold climate regions of the United States – like the Northeast and Alaska – have historically been the hardest to decarbonize using air source heat pumps. Fears over poor efficiency and equipment failure in frigid weather (and skyrocketing power bills) have hindered adoption.
Alleviating these fears is paramount to reducing emissions – especially given that pollution-heavy home heating oil is still prevalent in these states. In fact, over 60 percent of households in Maine still utilize the petroleum derivative for primary space heating, according to the Buildings Hub Market Factors dashboard. So do more than 40 percent of households in both Vermont and New Hampshire.
Figure 1: Percent of Households Using Heating Oil for Primary Space Heating in the United States, 2020.
Data from Buildings Hub Market Factors dashboard, visualized by Atlas Public Policy
Of all the options to heat your home, heating oil is about as bad as it gets. From a CO2 emissions standpoint, it is 40 percent worse than natural gas!
Figure 2: Pounds CO2 Per Million Btu by Heating Fuel
1 million Btu is equivalent to roughly seven gallons of heating oil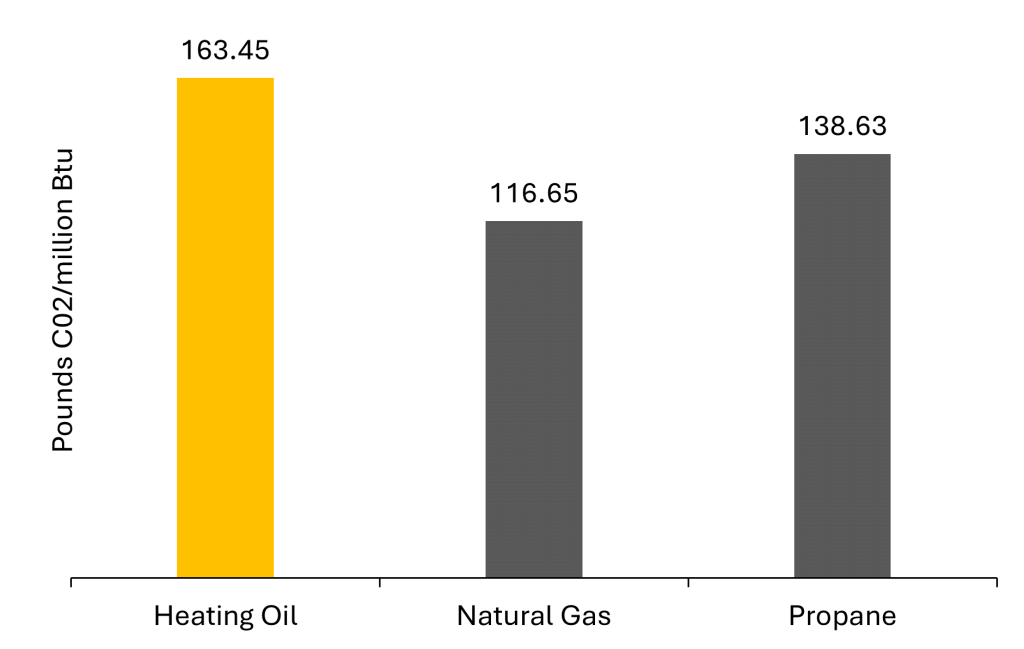 Data from the Energy Information Administration, visualization by Atlas Public Policy.
Luckily, heat pump technology has improved drastically in recent years. Cold climate heat pumps (ccASHPs) will help kick delivered fuels like heating oil and propane to the curb and keep families warm even on the harshest winter days.
How Reliable Are ccASHPs?
Forty years ago, heat pumps faltered in snowy weather. Now, thanks to low boiling point refrigerants and the use of variable speed compressors, ccASHP performance is still solid even at 5°F.
The Northeast Energy Efficiency Partnership (NEEP) maintains an excellent product database that includes specs on all types of air source heat pumps, including ducted/ductless and single-zone/multizone units.
Let's take a look at an example heat pump and see how its performance holds up as the temperature drops. We'll use Samsung DVM S Eco, which is ENERGY STAR Cold Climate certified.
Figure 3: Samsung DVM S Eco Ducted Heat Pump Performance: Minimum Heating Capacity (Btu/h) by Temperature
Data from NEEP's Heat Pump List, visualized by Atlas Public Policy
We can see that at -13°F, the efficiency does take a significant hit. But keep in mind that under optimal settings, heat pumps have coefficients of performance around 4. That means that even when cold climate air source heat pump capacity drops by 75 percent, they're still just as effective as baseboard heating. Even in frigid weather, heat pump efficiency rules the day when compared to other space heating alternatives.
Temperature Check
How often do temperatures in heating-oil-dependent states actually hit 5°F? How about -13°F? To answer this question, we downloaded hourly weather data from the most populous city in the state most reliant on heating oil: Portland, Maine. In 2022, there were nine days that dipped below 5°F and no days that even came close to the poorest performance threshold of -13°F.
Figure 4: Daily Low Temperature in Portland, Maine 2020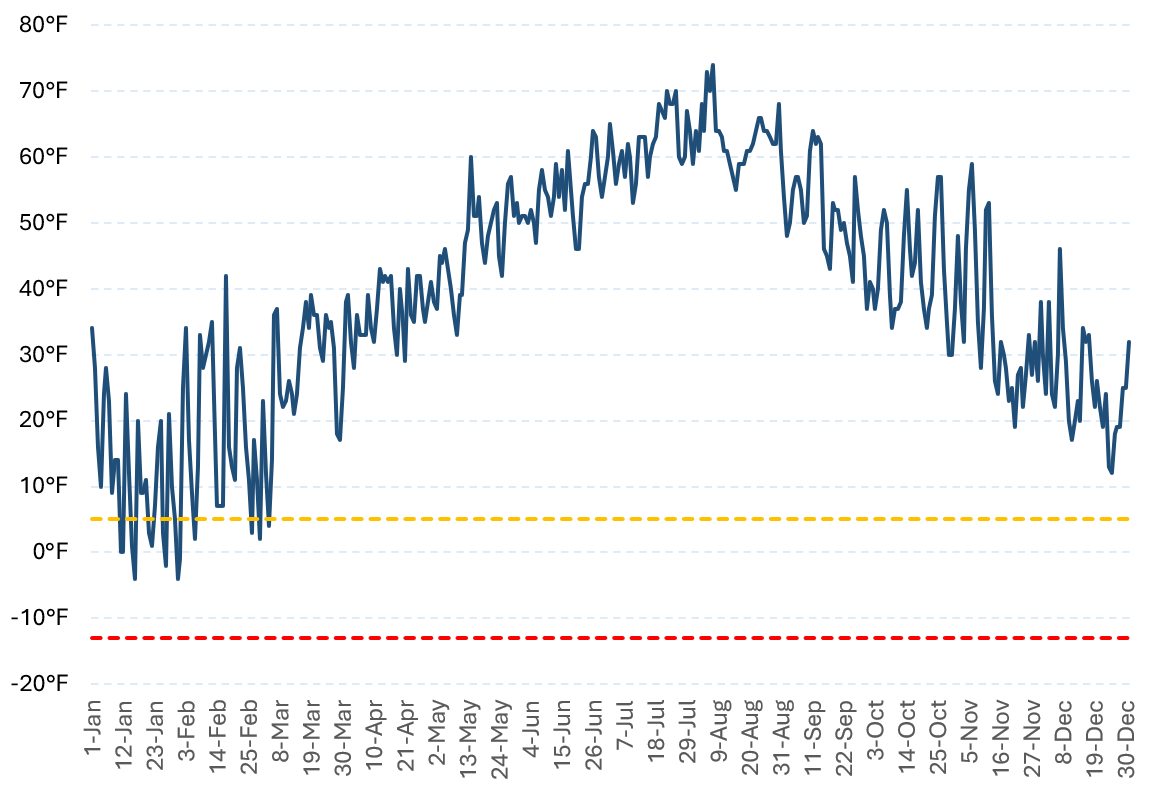 Data from the National Oceanic and Atmospheric Administration (NOAA), visualized by Atlas Public Policy
While real world testing will be required, it appears cold climate heat pumps are more than up to the task of displacing their dirtier counterparts.
Photo Credit: Two residential modern heat pumps buried in snow by Radu Sebastian via Shutterstock
About the author: Noah Gabriel