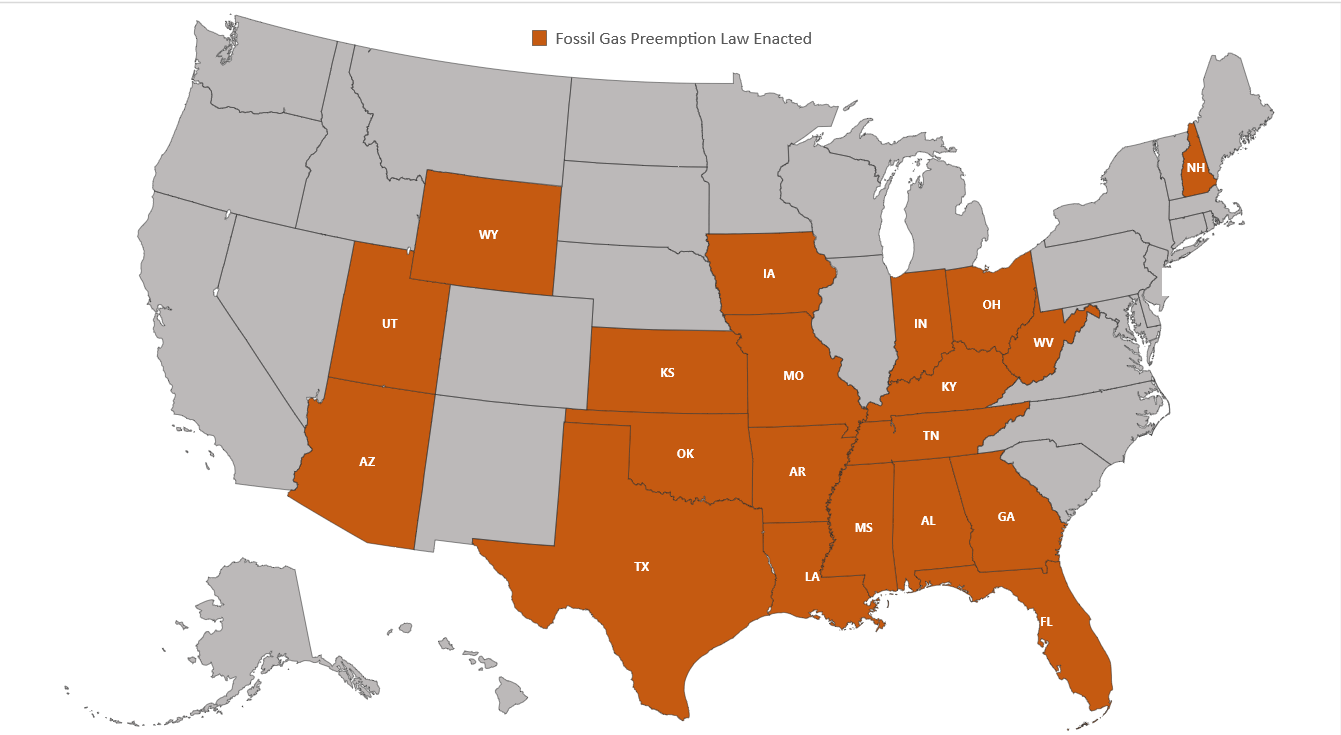 In 2019, the City of Berkeley (CA) voted to phase out gas hookups in nearly all new construction. This pro-electrification move led to numerous lawsuits against the measure and spurred the gas industry to develop a bulwark against similar legislation in states outside California.
How are pro-gas lobbyists and legislators working to stymie electrification efforts, you might ask? The answer: preemption laws.
What is preemption and how does it impact building electrification?
Preemption occurs whenever a state government prohibits local government from enacting policies that address a given issue. In the case of fossil fuel use, preemption laws prevent municipalities from issuing gas bans or electrification ordinances.
Because state policy trumps local policy, preemption laws place a stranglehold on city- or county-level climate action.
Preemption laws of this sort are a tactical weapon against building sector decarbonization. Local governments are pivotal in piloting new climate programs, acting as testing grounds with lower stakes. Think of a city like Ithaca, New York – with its own Green New Deal – and the positive example it has set for the rest of the state in terms of climate ambition. If New York had a preemption law, Ithaca could not have become the first municipality to pursue city-wide electrification.
The language of preemption
With the concept of preemption now defined, let's dig into an actual law! Here is an excerpt from Florida House Bill 919:
"A [local government] may not enact or enforce a resolution, ordinance, rule, code, policy, or take any action that restricts or prohibits or has the effect of restricting or prohibiting the types or fuel sources of energy production which may be used, delivered, converted, or supplied by the following entities to serve customers… Any [policy or action] that is preempted by this act that existed before or on July 1, 2021, is void."
The Florida legislature's message is loud and clear – fossil fuels are here to stay in the Sunshine State, and local governments can't do anything about it.
What's more concerning is that any local actions to limit fossil gas use before this preemption law was enacted are made void.
Where is preemption happening?
Gas lobbyists are vying for control over as many states as possible to prevent losing customers and thus, profit. In less than three years, preemption laws have been enacted in 20 states.
Figure 1: States with Preemption Laws in Effect That Prohibit Fossil Gas Bans (Updated January 2023)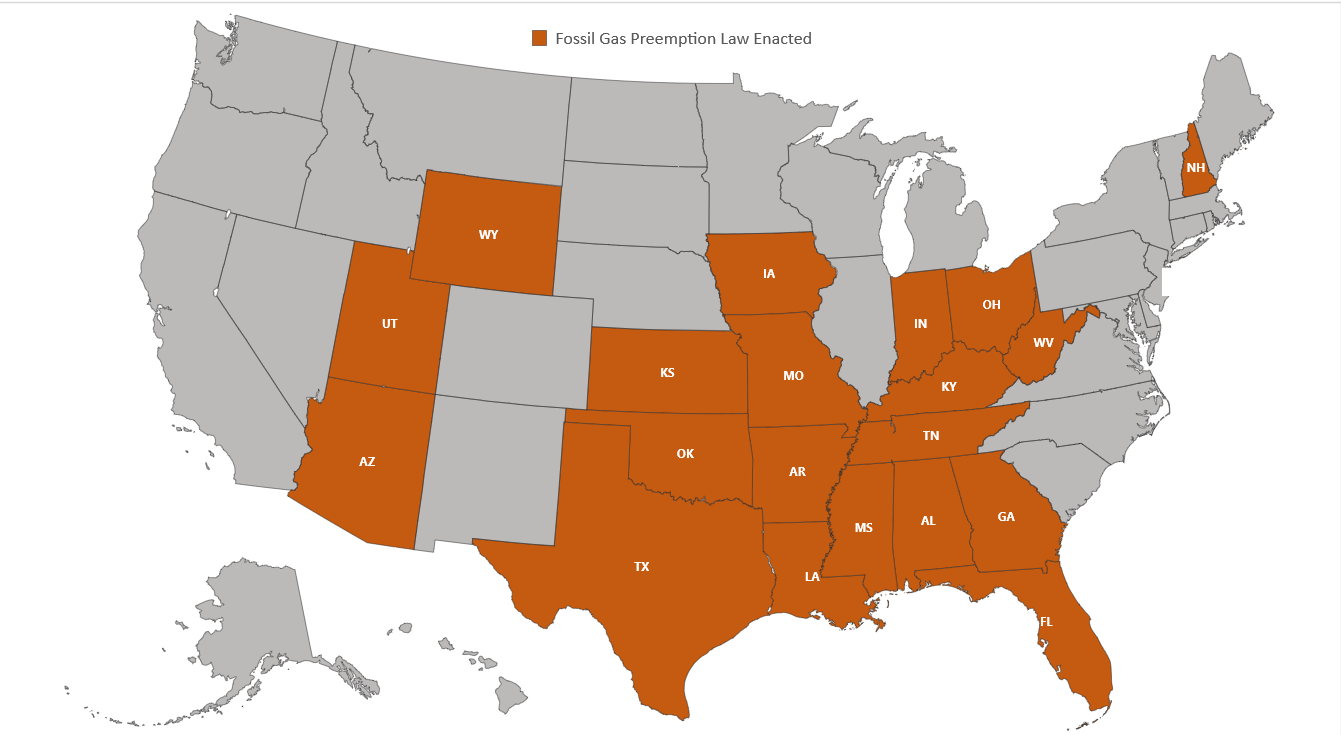 Data collected and visualized by Atlas Public Policy
As of now, preemption laws are heavily concentrated in the South and Midwest. However, as New Hampshire and Utah demonstrate, these policies could soon spread to other regions, greatly endangering building decarbonization efforts across the country.
Cornering the market
While every state has thousands of gas customers, consumption varies considerably. On the Buildings Hub Market Factors dashboard, Atlas tracks data on fossil gas consumption by state. Understanding which states consume the most gas is vital to measuring the impact of preemption laws.
The 20 states with preemption laws account for 31 percent of the residential fossil gas market, based on annual delivery data from 2021. While Utility customers in these states can still choose to voluntarily electrify on an individual basis. However, without local gas bans, progress on building sector decarbonization will advance far more slowly.
Unfortunately, the list of states with preemption laws may grow in 2023. Pennsylvania, for instance – which makes up five percent of the residential gas market – nearly became the 21st state to pass a preemption law back in July 2022. Senate Bill 275 was only saved from becoming law through a veto by Pennsylvania Governor Tom Wolf. He argued that it "… would limit the tools available to local governments to address the global threat of climate change in future years and stands in the way of clean energy incentives and initiatives."
The Colorado and Michigan Houses introduced preemption bills in 2021 and 2022, respectively – the latter of which passed the Lower Chamber last September. However, given the recent political shift in Michigan in favor of Democrats, it is unlikely this bill will advance any further.
Looking Ahead
2023 will very likely be another contentious year for fossil gas bans and those that oppose them. Is a preemption law tracker something you want to see visualized on Buildings Hub? Let us know at info@atlasbuildingshub.com.
About the author: Noah Gabriel