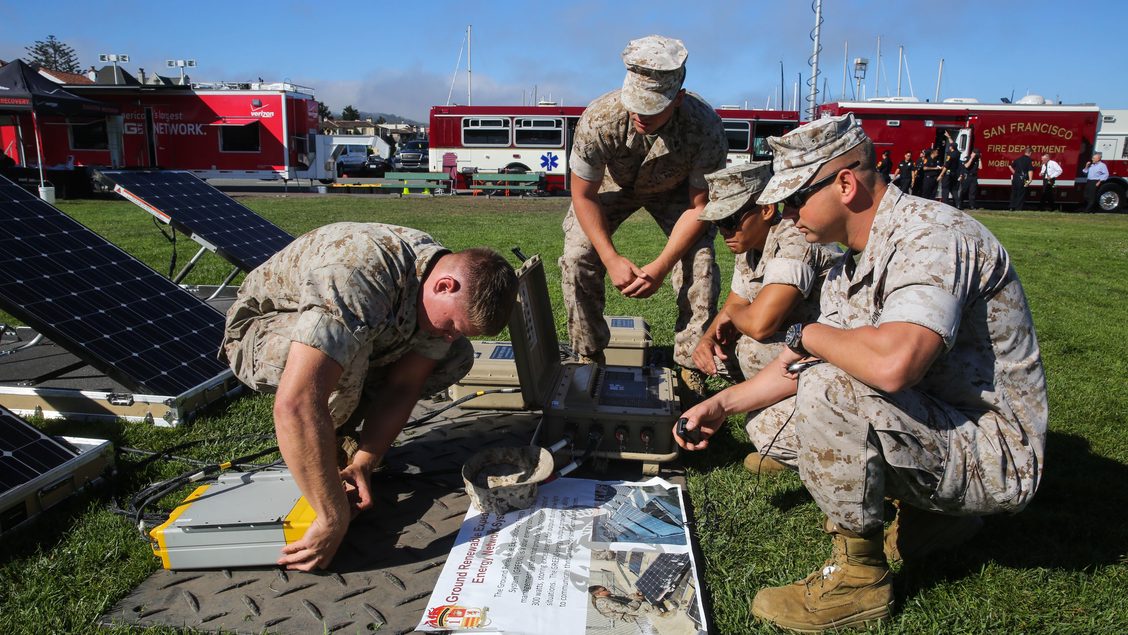 Coming on the heels of Veterans Day, it's the perfect time to discuss what the U.S. military is doing to decarbonize its facilities – both domestically and abroad.
Late last year, the Biden-Harris Administration declared its intent to electrify all federal buildings by 2045, which includes bases and installations across all branches of the U.S. armed forces. In tackling this government-wide mandate, the Department of Defense (DoD) is well positioned to lead the way.
The U.S. Army will outfit all 130 of its bases with microgrids over the next twelve years as part of the broader Army Climate Strategy. This plan might come as a surprise, given military and climate action aren't often associated with one another. But microgrids on army bases are a perfect fit for several reasons beyond emissions reduction.
Firstly, a solar array paired with batteries can produce and store power even in remote locations, where many domestic and forward-deployed military installations are located. Secondly, multi-megawatt-hour batteries can "island" a facility in the event of a blackout, providing electricity for multiple weeks even in the event of an earthquake or other disaster. As the military's main priorities are readiness, resilience, and operational performance, integrating these systems into military facilities would bolster security interests while acting on climate. Lastly, microgrids represent millions of dollars in savings opportunities. In 2020, the U.S. Army paid utilities over $740 million for electricity. Onsite solar energy production – especially at this scale – will slash that bill considerably.
A great example of a recent microgrid project is the Los Alamitos Joint Forces Training Base in Southern California, a training site for the National Guard. When completed, the facility will feature a 26 MW solar array (26,000 kW) combined with a 40 MWh (40,000 kWh) battery. To get a sense of just how big this microgrid is, consider that residential solar and battery installations tend to be less than 7 kW and 20 kWh, respectively.
These microgrid projects are far from the Army's first foray into sustainable building design. In fact, the military branch has been a member of the U.S. Green Building Council for two decades. In that time, the U.S. Army has amassed LEED certifications for over 1,000 facilities. The Army Climate Strategy also mandates a minimum of LEED Silver for all future construction and major retrofits.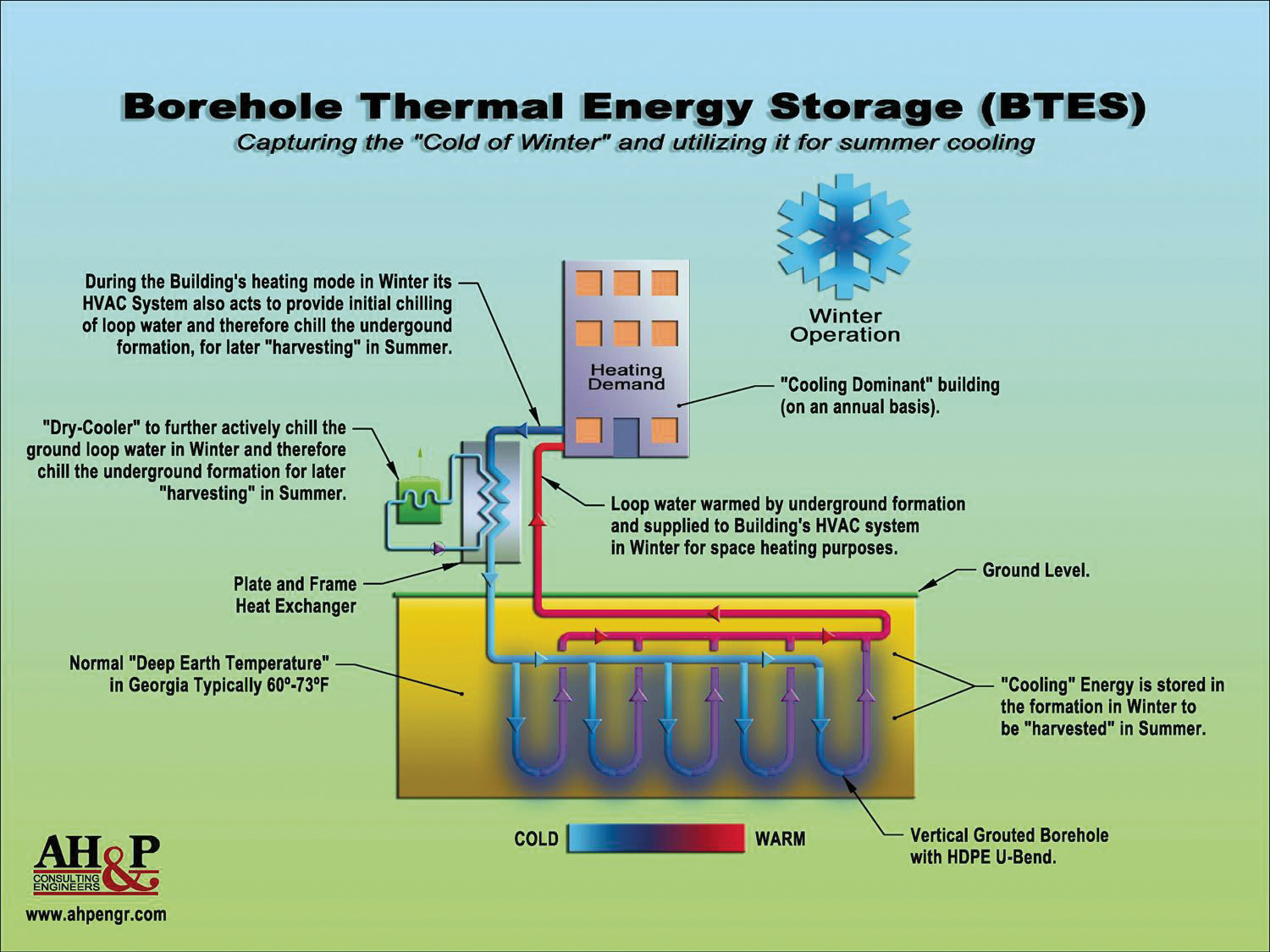 Batteries aren't the only way to store clean energy. It turns out water can work well too. Engineers at the Marine Corps Logistics Base (MCLB) in Albany, Georgia developed a unique borehole thermal energy storage (BTES) system that is even more efficient than a typical ground-source heat pump.
If you have no idea what a BTES is, don't fret; it's the first of its kind in the United States. It's essentially a ground-source heat pump with additional water storage features. The system is comprised of 306 vertical wells over 200 feet deep that are laid out in concentric circles. In the winter, frigid air chills the water within these wells, which is then pushed to the innermost circles to stay cold until it can be used. When the sweltering Georgia heat rolls around, the MCLB air conditioners draw on that reserve of chilled water to efficiently produce cold air. As extreme heat continues to bear down upon military installations to the detriment of operations, reliable, efficient cooling will be essential to ensuring the armed forces can optimize their preparation and performance.
The MCLB system wasn't cheap. Together, the heat pumps and additional storage capabilities cost $12.2 million. However, with annual savings of over $740,000, the base is sure to make its initial investment back, and some. What's more, these projects – alongside energy efficiency measures and a landfill gas generator – allowed the Albany MCLB to become the first-ever Net Zero Department of Defense facility this May. A growing number of installations will undoubtedly hold this title soon as the DoD charges ahead with the understanding that climate security is national security.
Inclusion of DoD media materials does not imply Department endorsement.
Cover Photo Credit: U.S. Marines from the 1st Marine Logistics Group, 1st Marine Division, assemble solar panels during a humanitarian relief and emergency assistance static display in Green Marina Beach, San Francisco. Photo: U.S. Marine Corps/Public Domain
About the author: Noah Gabriel